American Honey — Heat Transfer Design
HIGH QUALITY TRANSFERS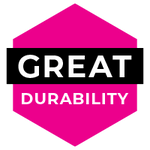 There are many ways to show off your American pride, but few are as stylish and easy to wear as the American Honey custom heat transfer from High Quality Transfers. Featuring a bold and eye-catching design of the bald eagle, this transfer is perfect for any fabric and can be applied in just minutes. If you are looking for the perfect way to express yourself on the Fourth of July, you've found it! Find other great designs in our shop today!
Features
Transfer to all fabrics and colors

Vinyl-free, weeding-free, and layer-free

Soft on the skin

Long-lasting

Ready to press
When you wear a shirt featuring this American Honey design, you'll feel like a true American icon. Made from top-quality materials, this custom heat transfer is designed to be seamless and easy to apply without the need for vinyl, weeding, or layering. With a soft and comfortable feel on the skin, this transfer is durable enough to stand up to regular wear and tear, making it ideal for everyday wear or special occasions. Whether you're proudly displaying your patriotism or simply looking for a great design, the American Honey custom heat transfer from High Quality Transfers is a must-have. Shop today!
Notes
Arrives in 2-5 business days
HOW TO PRESS OUR DREAM PRINT TRANSFERS?
1. Turn on the heat press at 320F for 15 seconds.

2. Press your apparel first to remove any wrinkles or moisture.

3. Center or align your transfer, then press for 15 seconds.

4. Remove your apparel from the hot plate and cool it off. Do not remove it until it's cool to the touch! (cold peel)

5. Once cool to the touch, you may slowly pull on one corner of the film. (watch how soft & easy it is to peel)

6. If the transfer is still sticking to apparel repeat the steps above.

7. After doing so you can add parchment paper and repress for 10-12 seconds for a soft matte look!
---