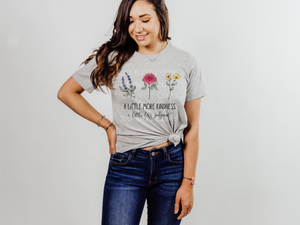 A Little More Kindness - T-Shirt Design
HIGH QUALITY TRANSFERS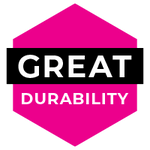 Looking for a fun and stylish way to promote kindness throughout your daily life? Look no further than our cute A Little More Kindness print transfer! This high-quality design can be applied to any fabric for durable, long-lasting wear. Whether you're looking to apply it to a t-shirt, tank top, or any other piece of clothing, our transfer is a great choice that's sure to get you noticed! And with our quick turnaround time of 2-5 business days, you can be wearing your new shirt in no time! So why wait? Order your A Little More Kindness transfer today!
Features
Print to all fabric types

Applicable to all fabric colors

No vinyl, weeding, or layering

Soft feel

Durable

Ready to Press
This design feels the way it looks! With a message promoting warmth and kindness, the transfer should be just as soft and welcoming as you would expect. Apply the design to a soft texture and comfortable fit of a high-quality t-shirt and you'll know what we mean! Whether you're looking for a fun addition to your wardrobe or a great way to spread an important message, this transfer has you covered. Order your A Little More Kindness transfer today and start spreading the love!
Specs
Get yours in 2-5 business days!
HOW TO PRESS OUR DREAM PRINT TRANSFERS?
1. Turn on the heat press at 320F for 15 seconds.

2. Press your apparel first to remove any wrinkles or moisture.

3. Center or align your transfer, then press for 15 seconds.

4. Remove your apparel from the hot plate and cool it off. Do not remove it until it's cool to the touch! (cold peel)

5. Once cool to the touch, you may slowly pull on one corner of the film. (watch how soft & easy it is to peel)

6. If the transfer is still sticking to apparel repeat the steps above.

7. After doing so you can add parchment paper and repress for 10-12 seconds for a soft matte look!
---